INDUSTRIAL & CONSTRUCTION SCAFFOLDING TYPES
ACCESS SOLUTIONS FOR WORKING AREAS OR MAINTENANCE
Beshore Scaffolding Ltd provide a safe construction or maintenance working environment. We help you choose the most appropriate form of scaffolding structure that meets your project demands.
INDEPENDENT SCAFFOLDING
An independent scaffold consists of a double row that is parallel to the building. The distance between the lines should be the minimum necessary to insert the required number of boards and toe boards. The primary role of independent scaffolding is to provide a self-supporting structure and complete light works such as painting, decorating, and cladding.
BIRDCAGE
An access birdcage scaffold consists of standards arranged at regular intervals in parallel lines, usually evenly spaced apart. If the birdcage is to be used externally, or in an open structure exposed to the wind, it must be specially designed. This is where our experts will help to design a specific birdcage to suit your project.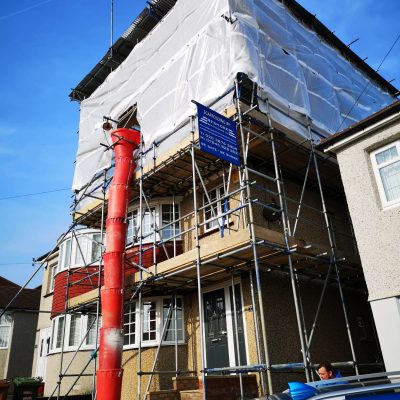 TEMPORARY ROOF
The design and erection of a temporary roof has changed drastically over the years. A temporary roof is a temporary shelter that protects your working environment; the main role being to protect your working area from bad weather.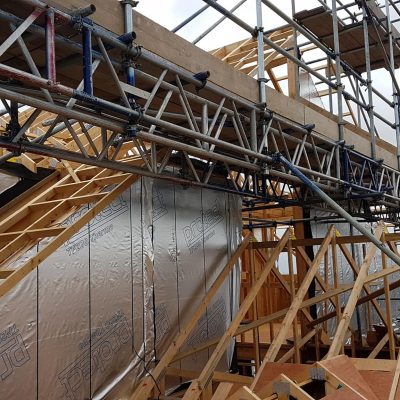 TRUSS OUT
A truss-out scaffold is a specifically designed independent tied scaffold which is fixed to beams that are cantilevered out from a building. These scaffolds are generally used where it is not practical and possible to build from the ground floor. At Beshore Scaffolding Ltd, as London-based scaffolding experts, we're proud to offer you the best and most competitive solution for truss-out scaffold.
LOADING BAY
A loading bay is a reinforced scaffolding structure for the loading and storage of materials and equipment whose weight would exceed the safe working load of the access scaffold to which it is connected. Our in-house team of expert scaffold designers can adjust the size and weight of it according your project demands.
STAIRCASE SCAFFOLDING
Our Staircase scaffolding is suitable for all types of projects. Safe and adaptable, it is trusted by project owners worldwide. It provides flexibility in their use and also develops a great way to access different locations depending on clients' requirements. Our professional team of scaffolders will ensure that your staircase is erected according to the highest industry standards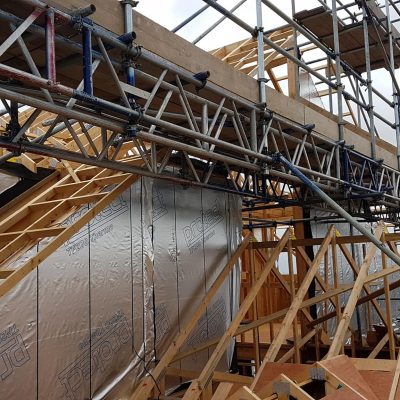 PAVEMENT GANTRY
A pavement gantry forms a suitable access for pedestrians in many circumstances, so it is a popular scaffolding choice for working on high roads. A pavement gantry will often also be enclosed with hoarding; protecting pedestrians from the works and surrounding traffic. At Beshore Scaffolding Ltd, we ensure that it is built in accordance with the highest safety standards and that it does not cause any issues for your employees.
EDGE PROTECTION
Edge protection is required whenever there is a risk of fall in a work environment. This protection is an essential part when working at height and protects your employees and other surrounded trades from occurrent accidents.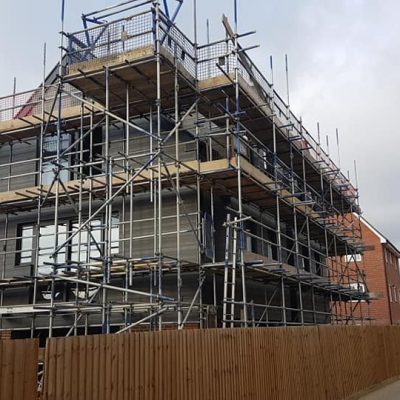 CUSTOM DESIGN SCAFFOLDING
At Beshore Scaffolding Ltd, as experts in construction scaffolding, we can design and erect any type of scaffolding. We specialise in delivering quality and custom design scaffolding that helps our clients to solve any issues in their working environment. We are flexible to ensure that all works are completed safely, on-time and at a competitive price.